In the wake of the COVID-19 crisis, businesses globally found themselves in a race to adapt to a new digital reality, marked by trends such as remote work, online collaboration, and a surging demand for digital solutions. This profound transformation accelerated the demand for robust, scalable, and adaptable software solutions. In response, B2B SaaS companies emerged as pivotal players in this reshaped landscape, offering the necessary tools and services to empower organizations to thrive in the digital age.
However, while SaaS startups inherently possess the advantage of delivering innovative digital solutions, they encounter unique and unprecedented marketing challenges. According to McKinsey's research, marketing and sales expenditures often account for a substantial portion of SaaS companies' revenues, sometimes exceeding 50%.
To effectively promote their software in this dynamic environment, SaaS companies must adopt a tailored marketing approach that comprehends the intricate nuances of the SaaS industry. This is precisely where specialized B2B SaaS marketing agencies come into play, providing the expertise and strategies needed to navigate the intricacies of this competitive landscape.
How to Choose the Right B2B SaaS Marketing Agency
When selecting a B2B SaaS marketing agency, there are several critical considerations tailored to your specific needs and goals. Here are five essential factors to keep in mind: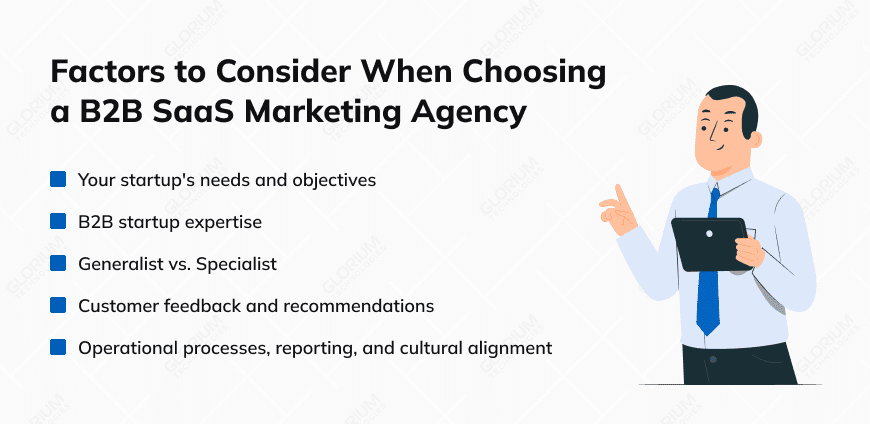 Your startup's needs and objectives
The agency you choose should be closely aligned with your unique requirements and objectives. For a B2B startup, if your goal is to achieve a specific level of growth or market penetration within a defined timeframe, ensure that the agency has a proven track record of delivering results in a startup context, such as lead generation and early-stage brand development.
Suppose your B2B startup in the healthcare technology sector aims to increase sales by 40% within the next year. In this case, it's vital to select an agency with a proven track record in healthcare tech, showcasing how they helped a similar startup exceed their sales targets within the defined timeframe through a tailored lead generation and brand development strategy.
B2B startup expertise
It's crucial that the agency possesses a deep understanding of the B2B startup landscape. They should be well-versed in the challenges and nuances of marketing to other businesses, especially in the early stages of a company's life cycle. Look for evidence of their success in helping B2B startups navigate the complexities of lead generation, market positioning, and industry-specific growth strategies.
If your B2B startup operates in the corporate intranet sector, look for an agency with demonstrated expertise in the field of collaboration and communication solutions for companies. For instance, they may have a case where they guided a client through the challenges of promotion by creating a thoughtful strategy, leadership content, driving industry partnerships, and achieving significant growth in a competitive market.
Generalist vs. specialist
Consider whether you need a versatile agency that can provide a broad spectrum of marketing services tailored to startups or a specialized agency focused on a specific aspect of marketing, such as content marketing, digital advertising, or SEO. Your choice should align with your immediate priorities and long-term marketing strategy.
Consider a B2B SaaS startup that has recently launched its product and needs to establish a strong online presence. Opting for a versatile agency with expertise in PR, content marketing, digital (display) advertising, and SEO can be a strategic choice. They can provide a holistic approach, as demonstrated when they helped a similar SaaS startup double or triple their website traffic and lead conversions through a combination of these services.
Customer feedback and recommendations
Investigate customer reviews and testimonials to assess the agency's reputation and reliability, particularly in serving B2B startups. Seek feedback from fellow startup founders or industry peers who have worked with the agency to gain insights into their track record and performance in the startup ecosystem.
When assessing a marketing agency's reputation, you discover that they have received glowing reviews from fellow B2B startups in the financial technology sector. These startups attribute their successful market entry and lead generation strategies to the agency's expertise, demonstrating a solid track record within the B2B fintech industry.
Operational processes, reporting, and cultural alignment
Gain a clear understanding of the agency's operational procedures, reporting mechanisms, and corporate culture. It's essential that their processes and reporting align with the unique needs of B2B startups, such as lean operations, agile marketing approaches, and a focus on growth.
Suppose your B2B startup prides itself on an agile and data-driven culture. The agency you select should align with this ethos. Look for an agency with a history of implementing lean, agile marketing processes and transparent reporting. For instance, an agency that worked with a B2B tech startup was able to scale its marketing efforts quickly and efficiently, adapting strategies based on real-time data and helping the startup triple its client base within a year.
Additionally, ensure that their cultural values and ethos harmonize with the spirit and vision of your startup, as a strong cultural fit can greatly impact collaboration and results.
10 B2B SaaS Marketing Agencies for Startups to Consider in 2024
As we enter 2024, the demand for specialized marketing services tailored to the unique needs of B2B SaaS companies is higher than ever. These startups require B2B SaaS marketing agencies that understand the intricacies of the SaaS industry, from lead generation and user acquisition to customer retention and revenue scaling.
The following are ten B2B SaaS marketing agencies that have proven their mettle in helping SaaS startups thrive. Each agency brings its own expertise, strategies, and case studies to the table, making them valuable partners for B2B SaaS startups seeking to make a significant impact in 2024 and beyond.
Glorium Marketing
Powered by Search
Hey Digital
Skale
SaaS MQL
Kalungi
Bay Leaf Digital
Xander Marketing
42DM
Growth Rocks
Glorium Marketing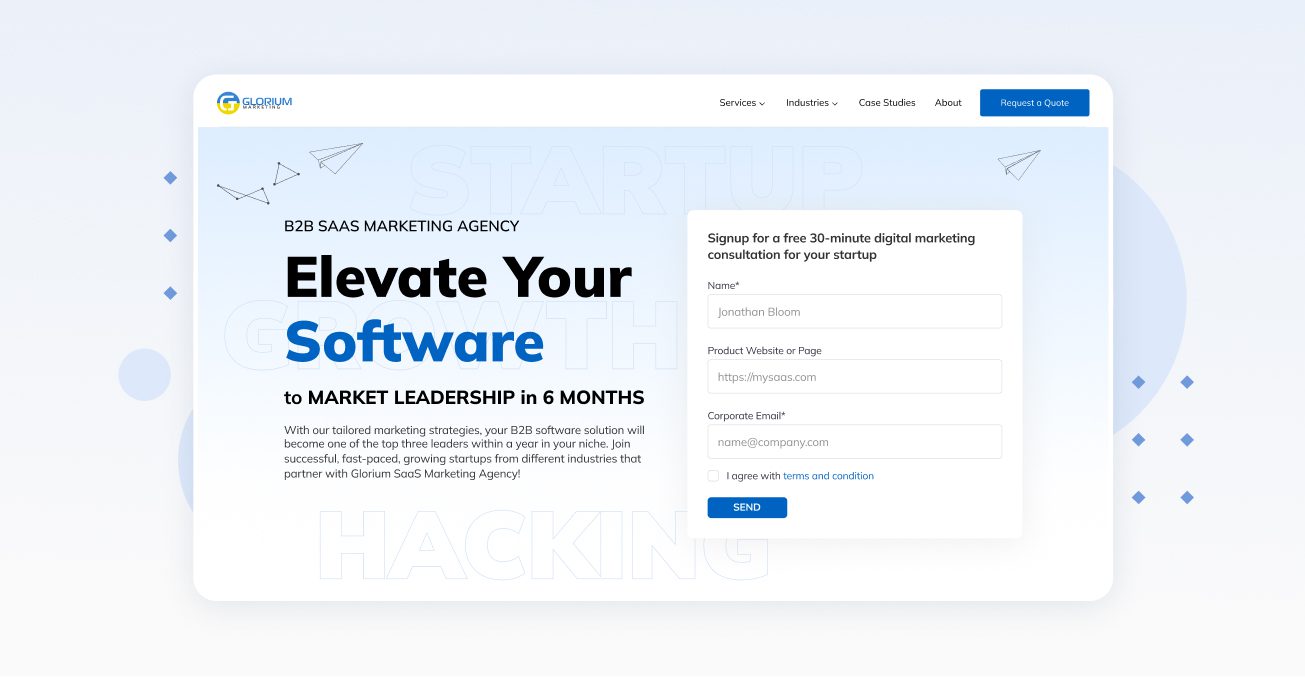 Year founded: 2021
Industries: healthcare, enterprise, BPA, VR/AR, fintech, HR, ERP, real estate, mobile apps
Team Size: 10+
Office Location: Princeton, NJ
Main Services: Omnichannel growth strategies, lead generation, brand recognition enhancement, content marketing, SEM and email marketing
Glorium Marketing is a B2B marketing agency for startups, primarily focusing on SaaS solutions. Their innovative growth hacking strategy "2-6-12" addresses the main challenges startups face, such as lead and sales generation, brand recognition, funding constraints, and hard competition. The Glorium Marketing team combines proven marketing practices, comprehensive strategies, growth marketing tactics, and cutting-edge digital tools, all aimed at unlocking a startup's potential within 6-12 months.
A key asset that sets Glorium Marketing apart from other SaaS marketing agencies is its team of passionate marketers, each with about a decade of digital experience and a genuine love for their work. They specialize in implementing omnichannel marketing strategies using a data-driven approach and creative thinking. This team has helped many B2B startups reach the top of their respective industries. The agency's track record makes it an ideal choice for startups seeking rapid growth and industry recognition.
Glorium Marketing's clients experience an average ROI of 164%, seeing a threefold increase in conversions compared to their previous metrics. The success stories often lead to clients needing to expand their sales teams due to the influx of leads generated by Glorium Marketing campaigns.
One example of a success story is a medical billing software startup that faced challenges in market visibility and lead generation despite having a promising SaaS product in the MVP stage. With limited marketing experience and internal resources, the startup lacked a clear strategy to compete in a market dominated by established products. Glorium Marketing implemented its proven growth marketing strategy that included market research, website design, content creation, customized landing pages, and SEM activities. The result was a remarkable transformation, propelling the startup to second place in the market, generating around 50 leads monthly, delivering $3.9 million of LTV in sales opportunities to the pipeline, and getting about 60 brand requests compared to the previous 3-5.
This success story not only turned the struggling startup into a thriving business but also established its position as a major player in the medical billing software industry, showcasing the effectiveness of Glorium Marketing's strategies in creating a strong online presence and a reliable lead generation system.
Check out more of Glorium Marketing's case studies here.
Powered by Search
Year Founded: 2009
Industries: data privacy, cyber security, sales, cloud platform, communication
Team Size: 11-50
Office Location: Toronto, Canada
Main Services: PPC, SEO, ABM, content marketing
Powered by Search is a leading digital marketing agency specializing in SEO, PPC, and content marketing for B2B startups. They offer comprehensive solutions to help their clients dominate search engine rankings, increase website traffic, and drive conversions. With a proven track record in elevating online visibility, Powered by Search is an excellent choice for B2B startups seeking organic growth and a strong online presence.
One example of their success is their work with CloudPro Innovations, a B2B tech startup specializing in cloud services. By optimizing CloudPro Innovations' website for SEO and implementing a comprehensive PPC campaign, Powered by Search achieved a 120% increase in organic website traffic and a 50% conversion boost within a year, significantly impacting the startup's revenue growth.
Hey Digital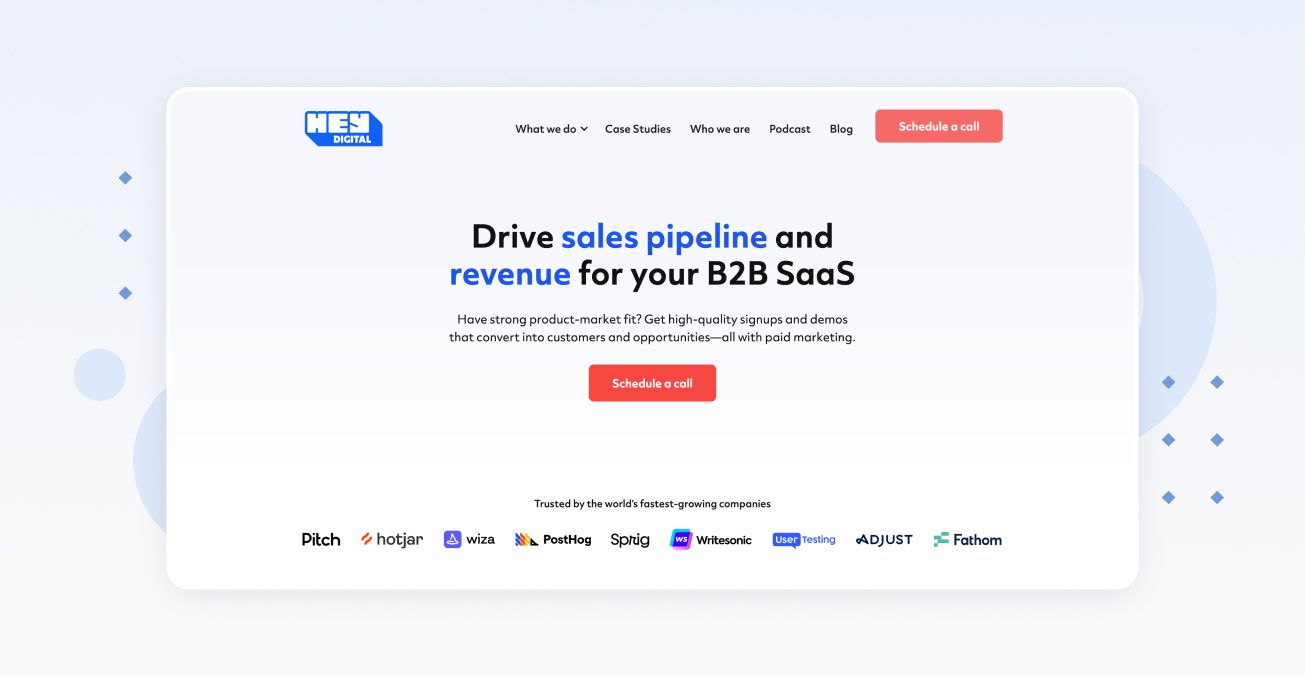 Year Founded: 2018
Industries: analytic tools, presentation platform, AI writing, wellness, enterprise, translation
Team Size: 20+
Office Location: Tallinn, Harjumaa, Estonia
Main Services: PPC, ad creative, video marketing
Hey Digital is a results-focused agency dedicated to helping businesses excel in the digital realm. Their expertise lies in driving traffic, converting visitors, and achieving impressive ROI. With a passion for crafting personalized strategies, Hey Digital has a history of transforming online challenges into success stories by leveraging data-driven insights and innovation.
Hey Digital assisted "ElectroWare," a B2B e-commerce startup in the consumer electronics industry. They transformed the startup's online presence by implementing data-driven strategies, including personalized email marketing and retargeting campaigns. This led to a 40% increase in online sales revenue and a 25% decrease in cart abandonment rates.
Skale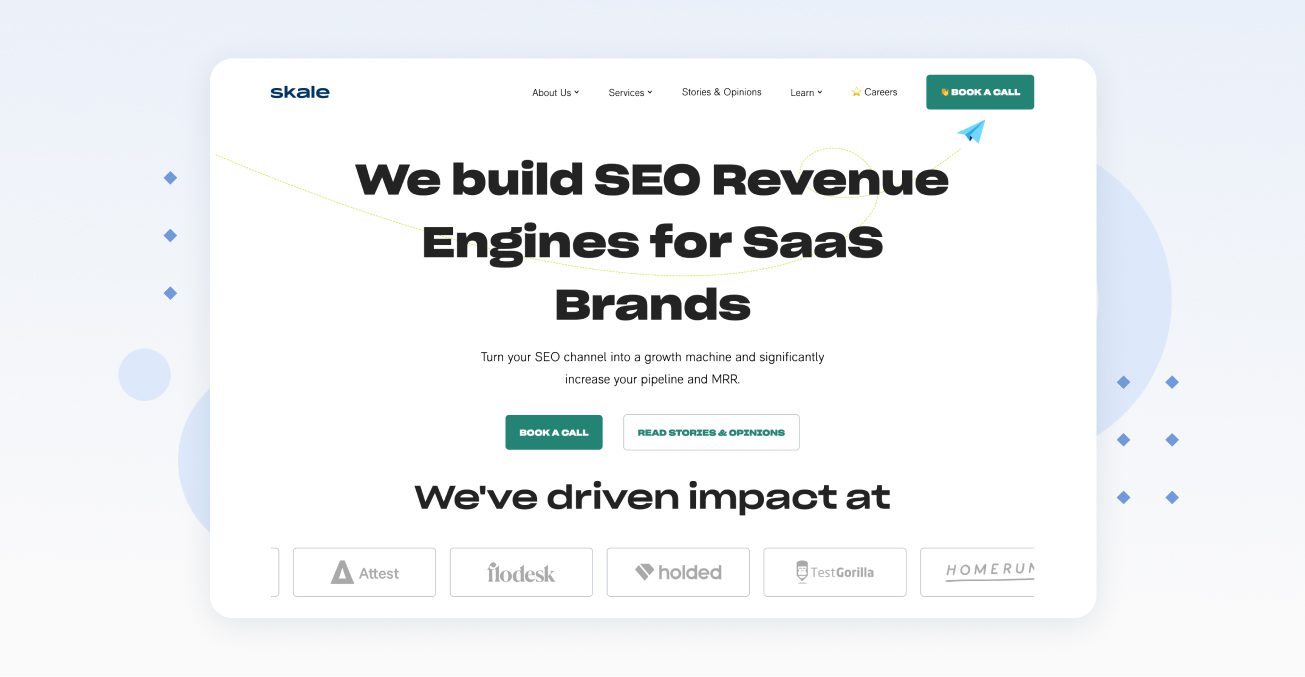 Year founded: 2020
Industries: finance, travel, HR, marketing, guesswork, presentation, review platforms
Team Size: 51-200
Office Location: London, England, UK
Main Services: SEO and link building
Skale is a growth marketing agency that specializes in driving revenue and scaling businesses. They are known for their performance-based approach, using a combination of data analytics, cutting-edge technology, and creative strategies to boost client growth. Skale has a history of helping startups and established businesses alike achieve rapid and sustainable expansion.
Skale partnered with "PayTech Solutions," a B2B fintech startup aiming to disrupt payment processing. They devised a performance-based marketing strategy, leveraging data analytics to identify high-value customer segments. This resulted in a 300% increase in revenue from these segments within the first six months, propelling the startup to rapid growth.
SaaS MQL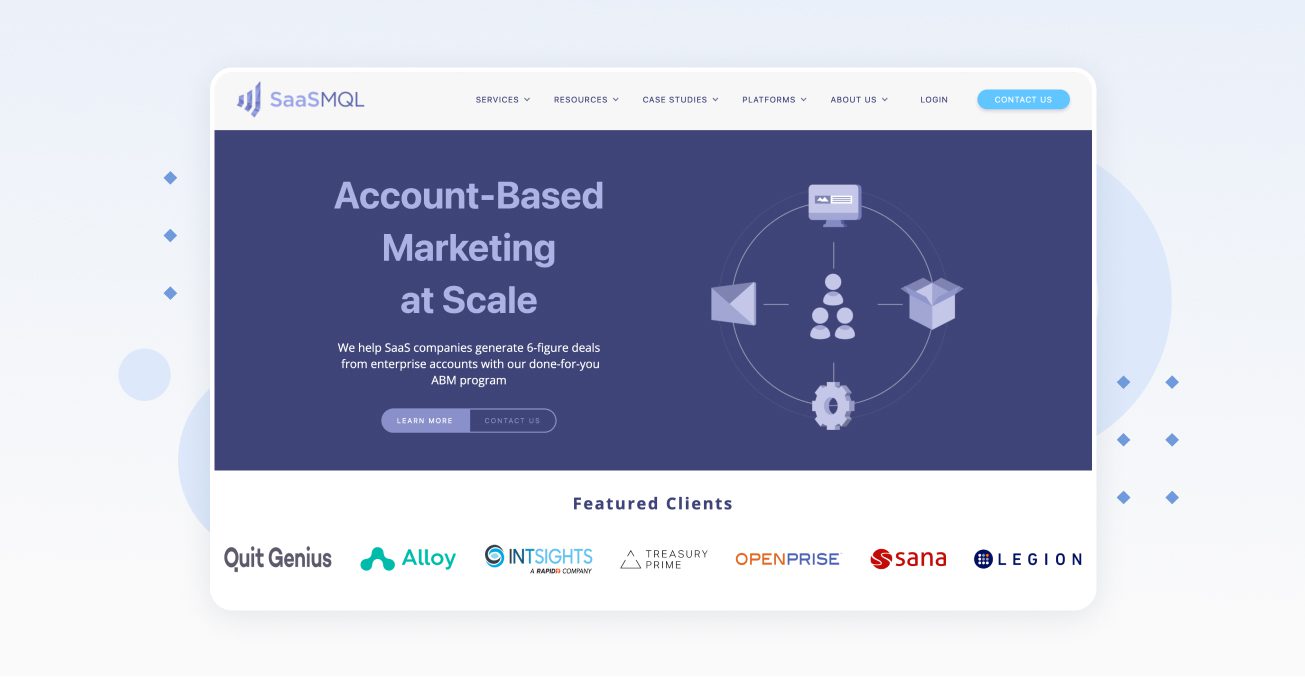 Year founded: 2018
Industries: security, RevOps, real estate, sales and marketing
Team Size: 2-10
Office Location: Miami, FL
Main Services: ABM, direct mail, demand generation
SaaS MQL is a marketing agency dedicated to helping SaaS (Software as a Service) companies generate high-quality leads and grow their customer base. Their expertise in the SaaS industry includes implementing specialized lead generation strategies and targeted marketing campaigns, making them a trusted partner for software businesses looking to increase market share and profitability.
SaaS MQL worked with "ProjectFlow," a B2B SaaS startup specializing in project management software. They implemented targeted content marketing and email campaigns, resulting in a 50% growth in free trial sign-ups and a 30% increase in paying customers within four months.
Kalungi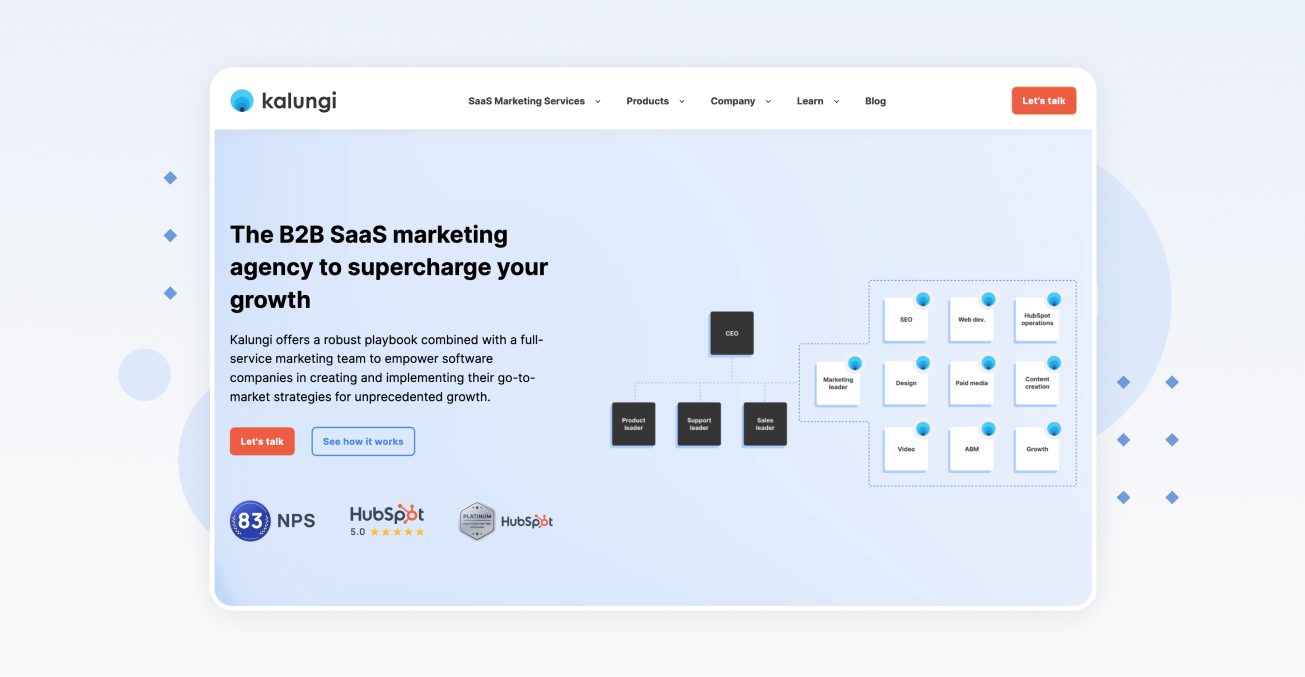 Year founded: 2018
Industries: B2B tech startups, especially in the tech sector
Team Size: 51-200
Office Location: Seattle, WA
Main Services: Marketing team outsourcing, CMO outsourcing, all digital marketing channels
This SaaS marketing agency offers a full-service marketing team and a proven growth playbook that covers various channels, such as SEO, PPC, content marketing, social media, email marketing, and web design. Kalungi also provides coaching and auditing services for startups that need guidance and feedback on their marketing strategies. They specialize in the SaaS industry and have helped many startups achieve good results.
Kalungi partnered with "AI Marketing Pro," a B2B tech startup developing AI-driven marketing software. They implemented a demand generation strategy, including thought leadership content and webinars. This resulted in a 200% increase in leads and a successful product launch that garnered industry recognition.
Bay Leaf Digital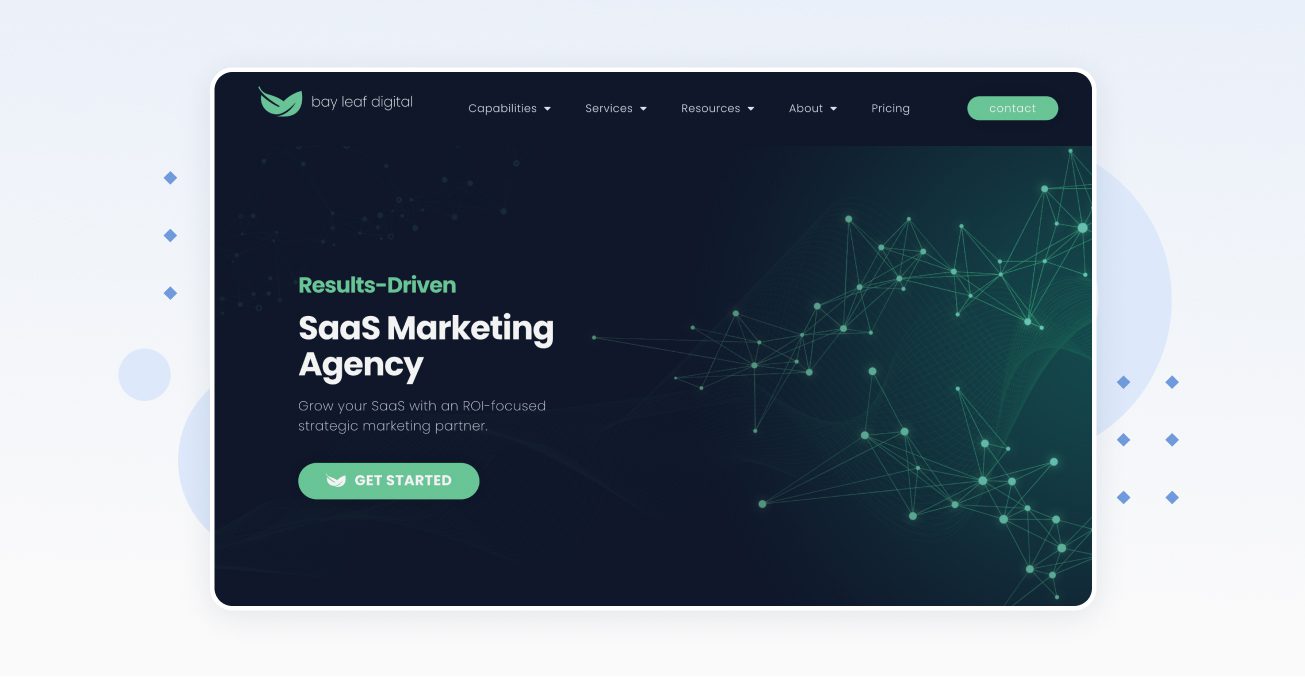 Year founded: 2013
Industries: communication, operational audit, analytics, inventory management, contact center
Team Size: 11-50
Office Location: Southlake, TX
Main Services: strategy, automation, SMM, website design
With a deep understanding of B2B marketing principles and a results-oriented approach, Bay Leaf Digital empowers SaaS companies to reach their full potential.
Their expertise spans a comprehensive range of digital marketing services, from crafting compelling content that resonates with target audiences to optimizing lead conversion funnels and integrating CRM systems for seamless data management. Bay Leaf Digital's commitment to data-driven decision-making ensures that every marketing action is aligned with measurable goals and delivers tangible results.
Xander Marketing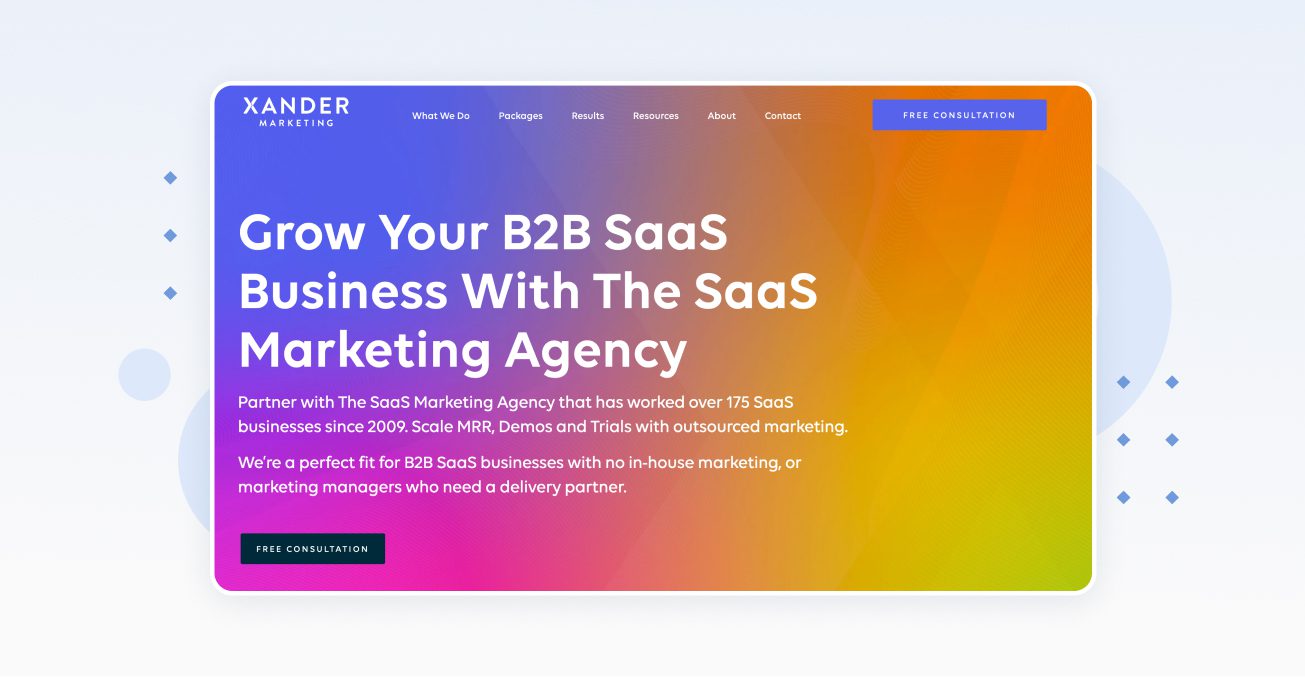 Year founded: 2009
Industries: gift platform, digital asset management, events, PSA, mobile workspace management
Team Size: 2-10
Office Location: Kent, UK
Main Services: marketing outsourcing, strategy, branding, web design, comprehensive digital marketing
Xander Marketing agency's expertise encompasses a wide spectrum of digital marketing services, ranging from strategic planning and lead generation to content creation and brand development. They seamlessly integrate their services across channels, ensuring a cohesive and impactful approach that drives tangible results.
Their commitment to data-driven decision-making ensures that every marketing action is grounded in insights and measurable outcomes. They continuously monitor and analyze data, refining their strategies to optimize performance and maximize return on investment.
42DM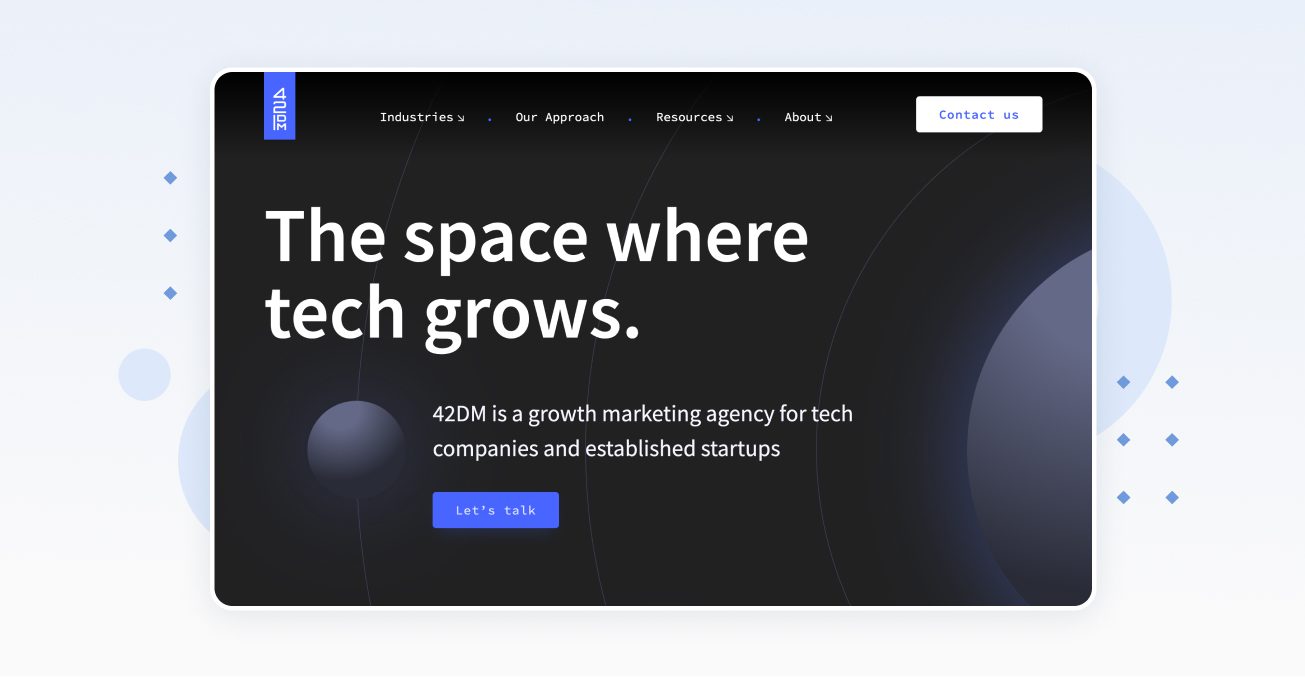 Year Founded: 2012
Industries: ad tech, PDF tool, fintech, enterprise
Team Size: 51-200
Office Location: Kyiv, Ukraine
Main Services: analytics, automation, content, design, influencers marketing, PPC, PR, SEO, SMM, strategy
This marketing agency is more broadly focused compared to others on the list. Nevertheless, it boasts a robust history of success in SaaS marketing. With a team of tech-savvy marketing experts, they seamlessly blend innovative solutions with consulting excellence, transforming data into actionable strategies that fuel growth. 42DM tailors their approach to each client's unique needs, ensuring that their marketing efforts resonate with their target audience and drive measurable results. They are not afraid to challenge conventional marketing norms, constantly seeking innovative ways to propel their clients to the forefront of their respective industries.
At the heart of 42DM lies a deep understanding of technology, enabling them to communicate complex tech concepts in a clear and compelling manner. They bridge the gap between the intricacies of technology and the language of marketing, ensuring that their clients' message resonates with their target audience.
Growth Rocks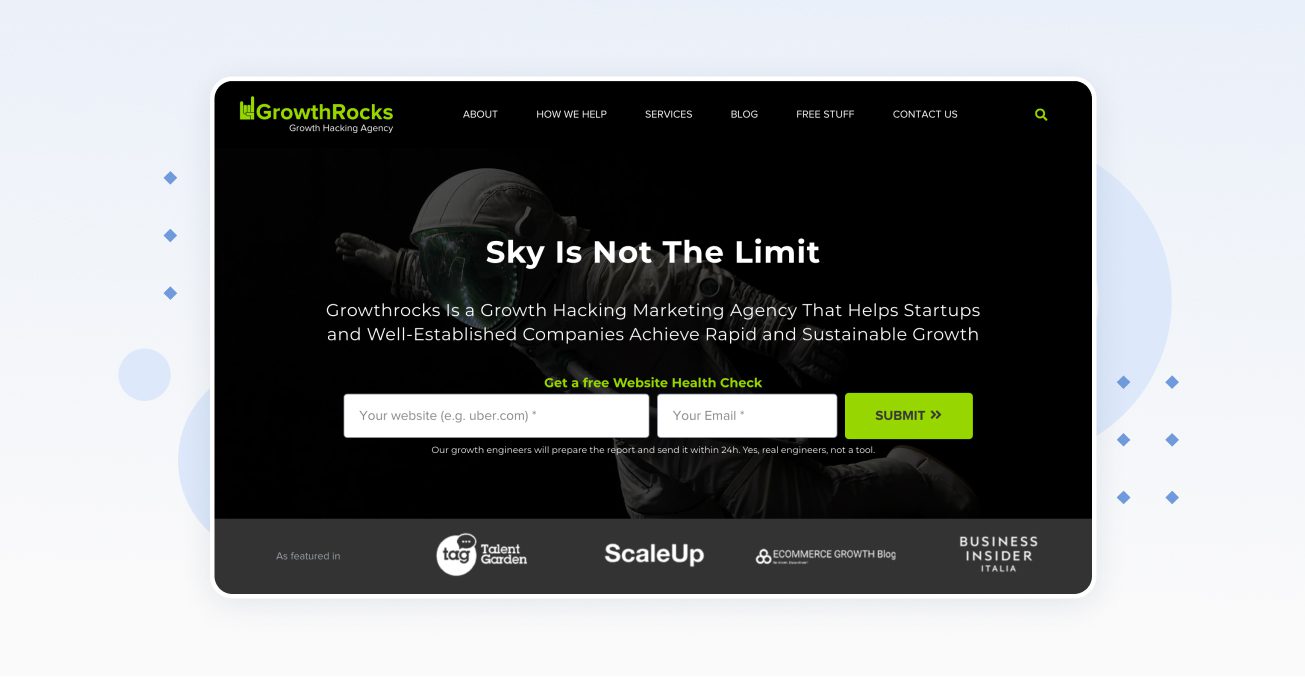 Year founded: 2014
Industries: SaaS, e-commerce, healthcare, education
Team Size: 11-50
Office Location: London, UK
Main Services: websites, social networks, content marketing, marketing funnels and email marketing
One more marketing agency that deserves (not only SaaS) startups' attention. In the dynamic realm of business growth, GrowthRocks emerges as a catalyst, empowering startups and established companies to achieve their ambitious expansion goals. They meticulously analyze each client's business model, target market, and competitive landscape, identifying untapped growth opportunities and devising actionable strategies to capitalize on them.
GrowthRocks believes in testing and refining strategies, continuously learning from both successes and failures. This agile approach allows them to adapt to the ever-changing market landscape and ensure that their clients remain at the forefront of their respective industries.
At the core of GrowthRocks lies a deep understanding of user behavior and customer acquisition strategies. They leverage data analytics and behavioral insights to identify the most effective channels and tactics for reaching and engaging target audiences.
In a nutshell
B2B SaaS startups face unique and unprecedented marketing challenges in the digital age. They must adopt a tailored marketing approach that comprehends the intricate nuances of the SaaS industry and the dynamic market landscape. This is where specialized B2B SaaS marketing agencies can make a difference, providing the expertise and strategies needed to navigate the complexities of this competitive field.
However, not all B2B SaaS marketing agencies are created equal. When choosing a marketing partner, SaaS startups should consider several critical factors, such as their needs and objectives, the agency's SaaS focus/expertise/specialization, customer feedback and recommendations, operational processes, reporting, and cultural alignment.
In this article, we have presented 10 B2B SaaS marketing agencies that have proven their mettle in helping SaaS startups thrive. Each agency brings its own expertise, strategies, and case studies to the table, making them valuable partners for B2B SaaS startups seeking to make a significant impact in 2024 and beyond.
If you are a B2B SaaS startup looking for a reliable and growth-oriented marketing agency that focuses on software promotion, we hope this article has helped you narrow down your options and find the best fit for your business. If you need to market and grow your SaaS startup right now or have any questions and need more information, please book your free 30 Minutes Digital Marketing Consultation or visit our page dedicated to SaaS Marketing.

About

Oleh Puhach

Head of Growth Marketing