Building a startup is challenging; this is why 20% of businesses fail in the first year, 50% within five years, and 65% fail by the tenth year. There are several reasons for these high failure rates, especially for poor marketing outings. Many startup owners spend money on ineffective marketing strategies and fold up when they don't get results.
You can avoid this by adopting a winning B2B marketing strategy involving proper research, calculated planning, campaign execution, and monitoring.
Don't know where to start? Read on for the ultimate B2B marketing checklist for early-stage startups.
Find Your Market Niche
One mistake many B2B marketers make is trying to solve all problems in their field at once.
For example, you may want to fix supply issues, billing difficulties, and delivery delays. But these belong to different target audiences.
Seeing every consumer in the field as a potential customer is ambitious, but indefinite targeting makes designing and executing marketing campaigns challenging. Unless you have a 7-figure marketing budget and reliable resources, you better choose one issue to solve.
Focus, use precise targeting and promote one key selling point of your product. Proper positioning will address the demand for your product from the audience with relevant pain points that you fix in a specific way.
Streamline your B2B marketing outreaches to get straight to your dream clients.
Glorium Lifehack: Not sure what your market niche is? Ask your top clients why they favored your offer compared to others. Knowing your point of difference, double-check it – see if people search for it on Google often.
Is Your Proposition Unique Enough?
Your potential customers have multiple purchase options. Make it easier for them to identify you in the crowd and purchase your products.
Focus your B2B marketing strategy on one offer your competitors can't match.
This offer is called a unique selling proposition, or USP. It must be exclusive. If you can apply your USP to another brand, it is too generic. The absence of difference or unique contribution to the market makes your brand invisible. What's worse, it dramatically increases the cost of your ads.
Glorium Lifehack: Unique selling point doesn't have to be your product or service. It can be company values, such as outstanding customer support. Yet, whatever it is, it must appeal to your customers and be memorable.
Buyer Persona Portraits
Creating buyer personas is another point to tick off your marketing checklist. This tactic gets you acquainted with your target audience. In a nutshell, it's about making a profile of the customers you expect your business to attract.
A buyer persona is an imaginative representation of your customers' groups, including ICP (ideal customer profile) or VIP customers. Be creative and put together a detailed portrait of your target audience member. It shouldn't be all fiction, though.
Here are the steps to creating a reliable buyer persona:
Research your potential buyers. Do the direct outreach or explore your competition's clientele.
Break your buyer personas into several groups based on demographics, roles, values, purchase behavior, etc.
Discover the goals and pains of your potential buyers. Consider the issues they wish your product could solve.
Learn the language of your buyer personas. You will use it in keyword research for your marketing strategy.
Now, create your B2B marketing campaigns targeted at these buyer personas.
Glorium Lifehack: Your ICP is not the company or a person who brings the heftiest check. It's a prospective client who most likely buys your product with minimal effort from your side. They usually make up 80% of your customer base.
Consistent Messaging
Consistent messaging is vital in B2B marketing. Your potential customers want to hear from you. By speaking up, you're establishing yourself as an expert in the field.
Even if your target audience doesn't get into your funnel immediately, you'll be on their radar as a startup with authoritative knowledge of their issues. Eventually, this will convert them into paying clients.
Always address your buyer personas' pain points. Tell them how you can mitigate their problems. Let them see the value you're offering.
Glorium Lifehack: Deliver your message through all communication channels you use for promotion. None of them can be missing the key points of your campaign.
The Right Channels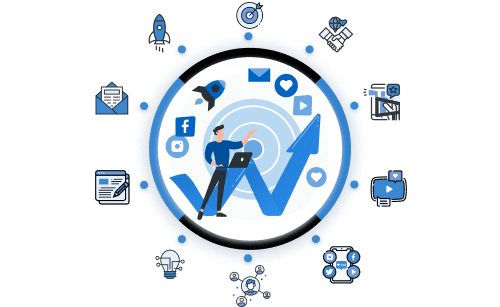 A B2B marketing campaign is incomplete if you don't reach out directly to your target audience. All the steps above make direct client outreach more simple and more effective.
First, determine the proper communication channels for your adverts.
Your primary marketing channel will depend on your target audience. People you'd easily reach with newsletters may miss your social media posts and vice versa.
Mix-n-match B2B marketing channels like:
Search engine marketing (SEO/PPC)
Marketplaces/platforms
Content marketing
Social media
Email marketing
ABM/outreach campaigns
Influencer marketings
PR / public media
Video Marketing
Regular evaluation of your marketing campaigns will help you determine which modes are more effective so you can channel more energy and resources there.
Glorium Lifehack: One helpful solution is exploiting an omnichannel strategy. Connect all your communication channels to make them work in synergy.
Lead Generation
The success of a B2B marketing campaign is producing leads – a flow of potential customers willing to purchase what you're selling.
Leads usually follow the calls to action you use in your marketing campaigns. In a perfect world, your call-to-actions direct people through the sales funnel from awareness to consideration to the decision-making point and to purchase.
Make sure your messaging on each funnel stage resonates with the customers' needs.
Consider that in B2B, more than one person makes the decision. You should reach all the decision-makers, show your product's benefits from different angles, and use various channels.
Glorium Lifehack: Always get feedback from your leads, whether they convert or not. It's a key to further improvement of your campaigns.
Close the Deal
Closing the deal is the ultimate goal of any B2B marketing campaign. In small and early-stage startups, owners or founders often make sales themselves. Let us give you a few tips to help you convert leads to clients.
First, listen to your prospects, hear their needs, and provide solutions, not hard-sell your product.
Second, prepare a list of "special offers" to sweeten the deal. Clients should feel exclusivity and a personalized attitude.
Third, ask them to leave feedback when they are ready. Testimonials on independent platforms will build you a reputation and allow you to improve your selling.
Finally, be patient. B2B marketing is a marathon, not a sprint, as the decision-making process here may take months. Always keep your eyes on the larger picture.
Final Thoughts
Now you have a checklist for building B2B marketing for early-stage startups. Following the tips above, you'll soon be closing multiple sales. Use the infographic to create your step-by-step plan.
However, startup founders rarely have enough time to develop marketing themselves. If this is your case, our crew is ready to help!
Our marketing agency for startups deals with small and medium technological businesses, growing them "from zero to hero." We are ready to jump in at any stage of your project.
With all the skills and experience necessary to give your brand a loud and identifiable voice, we can transform your startup into Unicorn.