If you're in the healthcare startup game, you're already well aware that a compelling value proposition isn't just another checkbox on your marketing strategy; it's a statement summarizing why your product or service is valuable, unique, and worth buying. It can help you attract not only customers but also investors and partners.
In the B2C business world, a successful value proposition should follow three simple rules:
Be specific – show the exact benefits for the customer,
Be pain-focused – solve the customer's problem(s),
Be unique – highlight your competitive advantage.
But how do you create a value proposition for healthcare SaaS? It's not an easy task, as you have to deal with multiple decision-makers and combine healthcare, operational management, and tech knowledge. This article will show you how to craft a value proposition for healthcare SaaS that connects your brand with your audience and sets your HealthTech solution apart from its competitors.
Why is Value Proposition a Challenging Task for a Healthcare Startup?
So what is the value proposition? It serves as a clear positioning statement that articulates your software's benefits, identifies the target audience it caters to, and explains why your startup stands out as the ideal provider of these benefits.
Based on the report, most mHealth projects emphasize their value proposition on the constraints and costs, earlier and faster access to care, quality control of care, and adherence to drug treatment regimes. But still, it's not an easy task.
Unlike most consumer products and services, which can be evaluated using straightforward metrics like build quality, user satisfaction, and price, healthcare's intricacies make it much more complex to measure value.
Several factors contribute to this complexity:
Unlike consumer products, in the healthcare industry, the desired outcomes often need to be clarified and subjective.
Healthcare services and goods are inherently unique and tailored to meet each patient's specific needs, complicating the standardization of value measurements.
Healthcare software is often a long-term endeavor involving significant risks and is influenced by various external factors beyond the control of healthcare providers.
3 Cases of Value Propositions for Healthcare Software
In order to gain a better understanding of how to create compelling value propositions, we will analyze some of the most prominent cases.
MyTherapy is a comprehensive medication management app designed to help users track, organize, and manage their medications and health-related activities effectively. The app's value proposition revolves around three pillars: improving medication adherence, reducing errors, and encouraging a healthier lifestyle.
Another case is Headspace, it is a leading meditation and mindfulness app with many features to promote mental well-being and reduce stress. Its value proposition is centered around providing users with guided meditation sessions, sleep aids, and tools that foster a sense of calm and relaxation.
Ada Health is an innovative mHealth app that leverages artificial intelligence to provide its users personalized health assessments and symptom tracking. The app's value proposition centers around offering quick and convenient access to reliable medical information, empowering users to understand their symptoms better and receive potential explanations for their health concerns.
The various examples of value propositions presented for different healthcare apps showcase the diversity and significance of the health industry. Each app addresses specific user needs and pain points, providing unique benefits and experiences. Read more about startup marketing issues.
So how can your startup create a compelling value proposition for the software?
Value Proposition for Healthcare Software: Step-by-Step
Who is your healthcare audience?
To better understand your healthcare audience, it's important to divide the market into four distinct categories. You need a deep understanding of their needs, pain points, and preferences.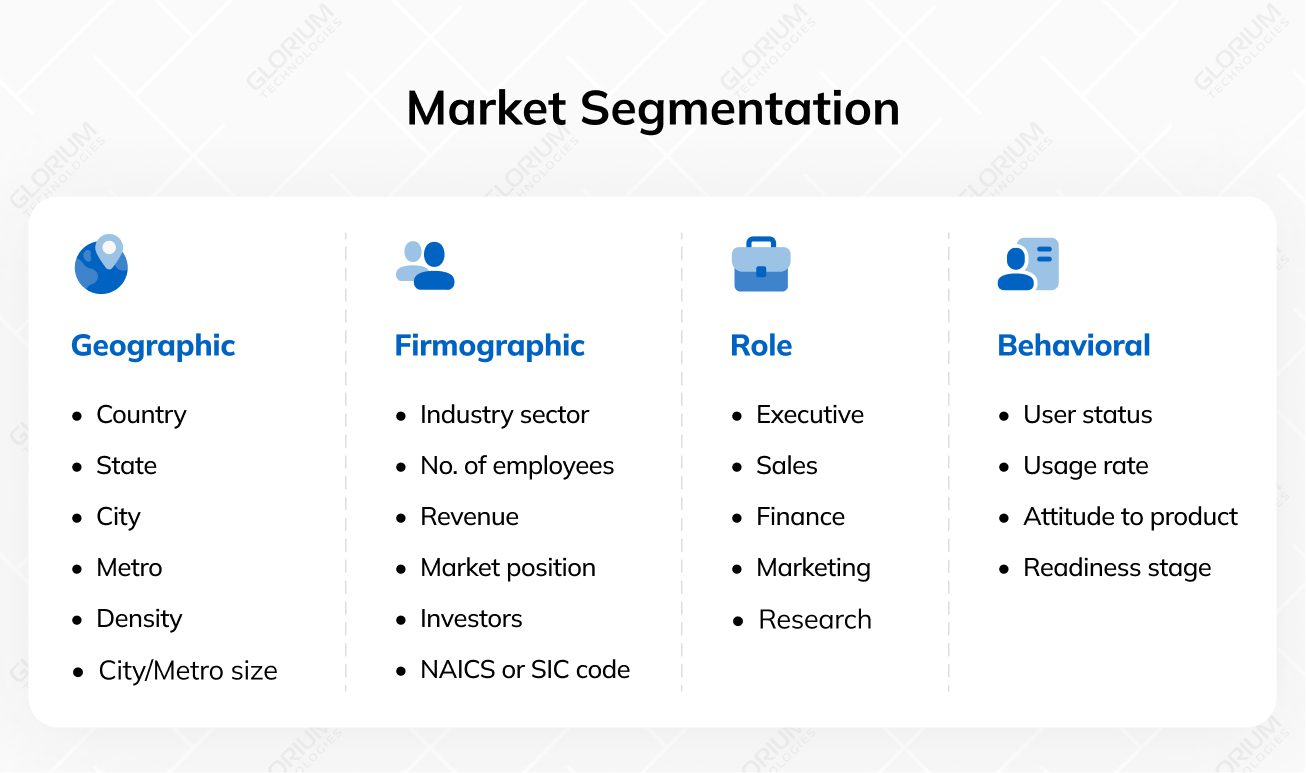 You need to conduct market research
Dive deep into your target market to gather relevant data and insights. Use surveys, interviews, and competitor analysis to understand the current landscape, customer behavior, and trends.
Start identifying unique selling points
Determine the benefits that show the difference of your product from competitors. Highlight what makes your offering special and superior.
Quantify the positive outcomes your customers can expect from using your product or service. Whether it's cost savings, increased efficiency, or improved performance, providing tangible data reinforces your value.
Gather data and statistics related to your industry's challenges, pain points, and opportunities. Backing your value proposition with industry insights adds credibility and relevance.
Monitor customer behavior
Utilize website analytics, user engagement metrics, and user behavior tracking tools to understand how customers interact with your product. The data can reveal valuable patterns and preferences.
Assess competitor positioning
Analyze the value propositions of your main competitors to understand how they position themselves in the healthcare market. It will help you identify gaps and opportunities for differentiation.
Summary
Creating a compelling value proposition for your healthcare software isn't a mere marketing exercise; it's a strategic endeavor that can set your product apart in a crowded marketplace. It requires healthcare startups to deeply understand the target audience, including their expectations, needs, and challenges. Thorough market research helps in pinpointing what truly resonates with potential users. By identifying unique selling points and aligning them with tangible benefits, you can articulate how your software solves specific problems. Industry data can underscore your credibility, while insights into customer behavior and competitor positioning can further sharpen your message. By investing time and effort in gathering the right data, you can lay a solid foundation for your value proposition, enabling your startup to thrive and succeed in a competitive healthcare market.
Glorium Healthcare Marketing Agency can uncover the data you need to create a powerful messaging strategy. Partner with us to position your healthcare software uniquely and stand out from the competition.