In the competitive landscape of B2B startups, establishing a strong brand presence and increasing brand awareness is crucial for success. Various marketing strategies can contribute to achieving these goals. Here, we will talk about the approach that holds immense potential — leveraging brand ambassadors.
Marketers frequently include brand ambassador programs in product promotion. The Trust in Advertising study conducted by Nielsen reveals that 89% of consumers trust recommendations from individuals they know. Such recommendations have nearly twice the potential of self-made assessment to prompt action. Consequently, those who offer recommendations can effectively serve as brand ambassadors.
Who Are Brand Ambassadors?
Brand ambassadors are individuals with a significant public presence, passionate about your brand and its offerings. They can act as influential advocates, helping to amplify your message and reach a wider audience.
Brand ambassadors enhance brand awareness, create a positive image, and increase customer loyalty. Their role typically involves endorsing and advocating for the brand's products or services through various marketing channels. Think of advertising campaigns, social media, events, and public appearances. The goal is to leverage the ambassador's popularity and credibility to connect with the target audience and drive sales or engagement for the brand.
Brand ambassadors can emerge from diverse backgrounds. Some places to look for them are your own staff, satisfied customers, and individuals who have experienced a positive interaction with your business and wish to offer their support. Essentially, brand ambassadors can be anyone who shares a belief in your mission and aims to assist others in recognizing its significance.
Who Can Be Brand Ambassadors for B2B
In B2B, to reach the right audience, brand ambassadors usually engage in professional communities and share the benefits of the product with the
businesses' decision-makers:
Founders
CEOs
CTOs
CFOs
CLOs
To talk to these people, ambassadors need to have the same high-profile background and professional authority. Below are some examples of potential brand ambassadors who can impact the mentioned buyer personas.
When Targeting Founders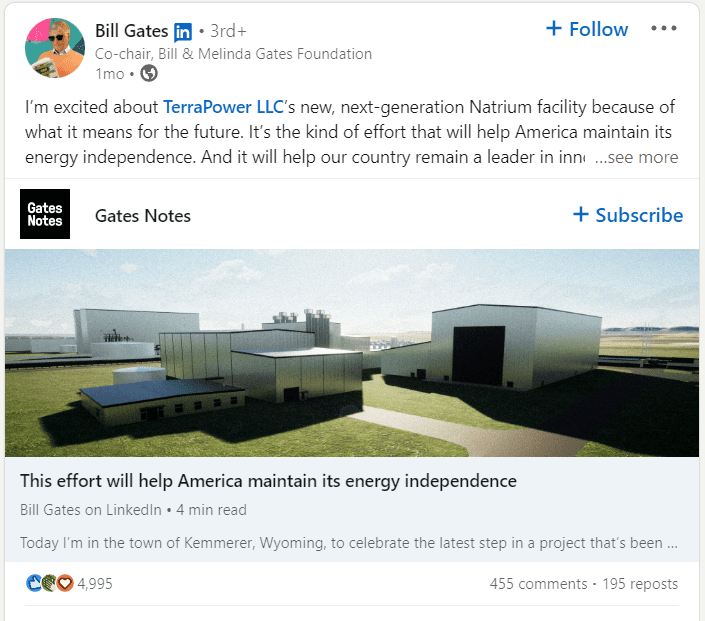 Recruit influential entrepreneurs, industry leaders, or successful founders who have built and scaled their own companies as influencers. They can provide actionable insights on topics such as entrepreneurship, leadership, and strategic decision-making.
How can startups use this? If your solution is of interest to the potential influencers, reach out to them and ask if they'd like to become brand ambassadors. Give them a chance to try out your product. If they see value in it, they may recommend your solution on their social media profiles and share their impressions with their followers.
When Targeting CEOs
Reach out to influential CEOs from well-established companies or industry thought leaders who have a track record of driving business success. Their expertise in leadership, business strategy, and organizational management can provide valuable insights and build trust.
If your solutions are related to streamlining operations and accelerating business growth, you can offer CEOs to assess them and share their opinion in public speeches and social media posts.
When Targeting CTOs
Technology experts, experienced CTOs, or savvy tech journalists may become effective brand ambassadors in this case. They can offer technical expertise related to areas such as software development, infrastructure, cybersecurity, and innovation.
Here you will have to capture tech gurus' attention with the innovations that move the needle of production enough for it to be endorsed, and spoken about in the channels like podcasts and events.
When targeting CFOs
Endorse finance experts, successful CFOs, or financial thought leaders who provide guidance on financial management, investment strategies, risk assessment, and cost optimization. You'd want their audience to be looking for maximizing financial performance.
As a startup in the finance industry, you'll have to show the numbers. One way to approach it is a collaboration with clients who value your solution and services already. Satisfied customers can serve as valuable advocates for your product, spreading the word about it.
When targeting CLOs
Include legal experts, renowned CLOs, and compliance influencers into your list of potential ambassadors. You would be looking for insights into legal and regulatory changes, and managing legal and compliance-related challenges.
Legal experts are known to have tight-knit communities. By building a relationship with some of the industry leaders and making them your ambassador, you will secure a gateway into this restricted industry.
It's important to note that the specific influencers for each buyer persona can vary based on industry, geographical location, and individual preferences. Marketers should conduct research and identify influencers who have credibility, expertise, and a strong following within the target domain.
Select the Right Ambassador Program
Consider that you have chosen your potential brand ambassadors. Next step of your work with them would be picking up a type of ambassador program you'd like to run, and setting the conditions. Take the time to carefully study and consider all pros and cons of the available options before determining the program that you'll move on with.
Here are five main types of ambassador programs to consider:
Requirement-driven brand ambassador programs. Have specific criteria and requirements for brand ambassadors (minimum follower count, industry expertise, specific qualifications.)
Affiliate brand ambassador programs. A unique referral link or tracking code is given to brand ambassadors who promote the product and earn a commission for each sale they generate.
Informal brand ambassador programs. Informal programs involve people who genuinely support brand, voluntarily share their experiences, and organically act as brand advocates.
Employee ambassador programs. Employee ambassador programs involve leveraging employees of a company, letting them represent the brand internally and externally.
Customer ambassador programs. Focus on transforming satisfied customers into brand advocates who share their positive experiences and recommend the brand to their networks.
Recommendations for Working with Brand Ambassadors
Nurturing relationships with brand ambassadors is crucial for collaboration success. Genuine endorsement, which builds up over time, can significantly impact your reputation and extend your customer base. Here is how you can achieve a better connection with brand ambassadors:
Show appreciation. Express gratitude for their support and dedication to your brand. Regularly acknowledge and thank them for their efforts. A simple "Thank You" note, exclusive discounts, or personalized gifts can go a long way in making people feel valued.
Provide exclusive benefits. Offer special privileges or exclusive access to new products, services, and events to your brand ambassadors. This demonstrates that you value their commitment and gives them a sense of belonging to an exclusive community.
Engage in open communication. Keep up the conversation with your brand ambassadors. Actively listen to their ideas and concerns. Encourage them to share their experiences and suggestions, as it can stimulate feedback from a larger community of potential customers.
Foster a sense of community. Create platforms or communities where brand ambassadors can connect with each other and share experiences. Encourage collaboration and interaction among them, as this can further strengthen their relationship with your brand.
Provide resources and support. Equip your brand ambassadors with the necessary tools, resources, and training to effectively represent your brand. This could include marketing onboarding, product samples, or access to educational materials.
Recognize and highlight their contributions. If you are continuously working with your ambassadors and happy about the results, make sure to feature them in your marketing campaigns, social media posts, newsletters, or hosting events to honor their efforts.
Seek their input and involve them in decision-making. Involving experts in new product developments, marketing strategies, or brand initiatives not only makes them feel valued but also provides valuable insights for your brand.
Continuously support their growth. Provide opportunities for professional development and growth for your brand ambassadors. Offer mentorship, training programs, or networking opportunities within your industry to strengthen their loyalty to your brand.
Building strong relationships with brand ambassadors is an ongoing process that requires consistent effort and genuine engagement. By implementing the recommendations above, you can cultivate a team of brand advocates who will add value to your business.
Conclusion
Brand ambassadors provide a bridge between the brand and the extended target audience. Providing authentic advocacy and human touch, they can effectively amplify the brand's message, attract new prospects, and foster trust. If you are planning to go this route, carefully select ambassadors who align with your B2B startup's values, expertise, and target audience.
As the power of word-of-mouth and peer recommendations continue to shape consumer behavior, embracing brand ambassadors as a core marketing strategy can be a game-changer for B2B startups looking to make a lasting impact and establish themselves as industry leaders.

About

Oleh Puhach

Head of Growth Marketing